Buy a Miracle Balloon at Dairy Queen® July 27—August 31, 2020
Bring healing and happiness to Children's of Mississippi when you purchase a Miracle Balloon at participating Dairy Queen® locations July 27—August 31, 2020.
Look for coupon balloons featuring the stories of our pediatric patients across the nation in addition to deals on food and treats. Every donation will help Children's of Mississippi provide best-in-class care for children and their families.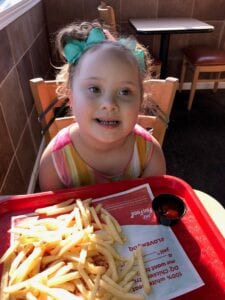 Care for kids like ZoeBeth Edwards. ZoeBeth spent the first 3 weeks of her life in the NICU at Children's of Mississippi, where she was diagnosed with Down Syndrome. She is happy and healthy these days and enjoys eating a Dairy Queen Blizzard with a side of french fries.
Guests visiting participating DQ locations can purchase Miracle Balloon coupons to pledge support and get a variety of discount coupons good for food or drink on your next visit.
Since 1984, DQ has been a partner of Children's Miracle Network Hospitals raising more than $154 million for local children's hospitals across North America.